Aoi (The dragon of a flame)
ID:GREENNILL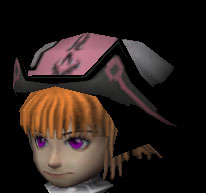 TYPE:FOmarl
RACE:HUMAN
OCCUPATION:FORCE
AGE:???
BIRTH:15/JUNE
BLOOD TYPE:A+
WEAPONS MemberNo.00031
BlackPaper No.00051
TEAM MyugenTai
A Generalization Captain
Aoi is always relaxing.
She likes a pleasant thing.Always positive,
She is happy-go-lucky.
Her favorite words are "Time is Money".
(C) SONICTEAM / SEGA, 2000, 2001.

The picture currently used on this site obtains consent of Sega Corporation,
and captures it from the game for Windows "Phantasy Star Online."
Distribution and re-printing are forbidden.