Carolane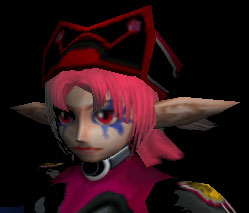 ID:PINKAL
TYPE:FOneweal
RACE:NEUMAN
OCCUPATION:FORCE
AGE:19
BIRTH:22/November
BLOOD TYPE:A+
Carolane is very playful. Her joke is pleasant and always entertains surrounding people. Althought she is a blunderer, in fact, she is a hard worker. Her favorite proverb is "Laugh and get fat". But she does not think that she wants to grow fat.
(C) SONICTEAM / SEGA, 2000, 2001.

The picture currently used on this site obtains consent of Sega Corporation,
and captures it from the game for Windows "Phantasy Star Online."
Distribution and re-printing are forbidden.