PSO PC Ver. Episode 1 ~ BlueBurst Episode 4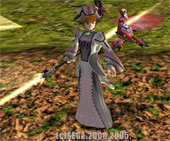 PSO BlueBurst Episode 4 was completed. And, the time of the end finally came. Thank you really for patronage of long time. It is completely isolated to this world through all eternity. However, it keeps ticking away time.
My Character
Aoi
Curren
Carolane
Caty
Koran
Friends(PSOV2)
Friends(PSOBB)
Memory
(C) SONICTEAM / SEGA, 2000, 2001.
The picture currently used on this site obtains consent of Sega Corporation,
and captures it from the game for Windows "Phantasy Star Online."
Distribution and re-printing are forbidden.